Description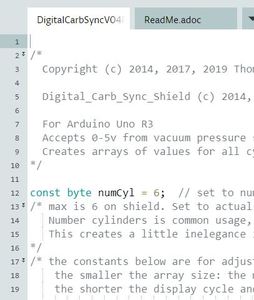 Download the optional DigitalCarbSync source code INO file if you want to make changes for your personal use.
The real magic is the RPM technique. You can view it in action here. Everything else is just clean, modern code.
The code is NOT needed to build and operate the Digital Carb Sync tool. This is an optional offering for those who want to experiment.
License terms apply. No warranty is expressed or implied.
Purchaser is granted personal use of the source code described herein.  Purchaser agrees to never reproduce, publish, or distribute the software or source code for the Digital Carb Sync. License grantees agree to pay $5,000 USD for each violation, and each subsequent violation enabled by the licensee's acts or omissions.