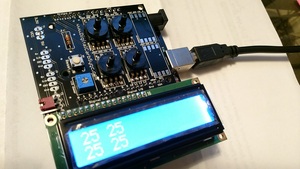 Is the performance of your old motorcycle or other carbureted engine lagging? It needs to be sync'd regularly so the cylinders aren't working against each other.
Are you tired of the mess and fuss of oil filled plastic tubes? Mercury manometers are great if you have one, but they are fragile, toxic and no longer available for purchase.
Go digital
Digital units are light weight and portable. Unfortunately, most are made for 2 cylinder engines. If you have 4 carb performance bike or something like a 6 carb Valkyrie or an old Kawasaki Z1300 or Honda CBX1000 things are more difficult and more expensive. Here's an expensive digital example. There are also the usual fake mercury versions like the CarbTune.
Build it yourself
If you have basic shop skills and tools you can build the Digital Carb Sync in a couple of hours. Simple parts and basic soldering are all you need. Loading the software is easy, and the source code is included for people with some beginning code skills who want to make changes.
Digital Carb Sync
Digital Carb Sync is the original design and kit that makes it easy to build your own digital carb sync tool. Get that bike running at its best.